Evoke™ Premium Auto Care Products offer a full-range of automotive grade appearance and detailing products for your vehicle. Whether you drive a motorcycle, car, truck, SUV or RV; Evoke's™ powerful line of products are specially formulated to keep your vehicle looking like new. The Evoke™ Premium Auto Care line includes: Interior Detailer, Exterior Detailer, Leather Conditioner, Spray Wax, Glass Cleaner, Wheel Cleaner, Tire Shine and Auto Wash.
Each Evoke™ Premium Auto Care product was designed with you in mind, featuring a color-code system that offers a color matched microfiber cleaning cloth or sponge for each Evoke™ product; making it easy to avoid mixing products on the same cloth. Evoke™ is also committed to not only providing the highest quality appearance and detailing products but also environmentally responsible products that feature highly recyclable aluminum and plastic. Available in both 3.4 oz. "Mini" and 17 oz. "Large" cans, Evoke™ Premium Auto Care Products keep your vehicle looking its best whether at home or on the go.
Coming soon! Evoke's™ Grease Monkey Pro™ line of automotive grade performance and service products that go beyond the appearance to keep your vehicle maintained and operating at its maximum performance.
REQUEST INFO
OR CALL (877) 22-EVOKE
(38653)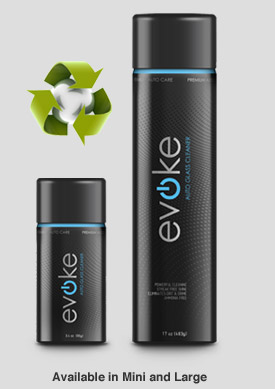 Also Available: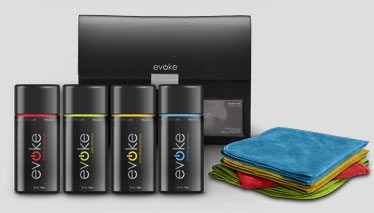 Gift Sets - Evoke™ Premium Auto Care gift sets are perfect for the vehicle enthusiast or for a valued customer. Packages available in sets of two to four Evoke™ products paired with corresponding microfiber cleaning cloths.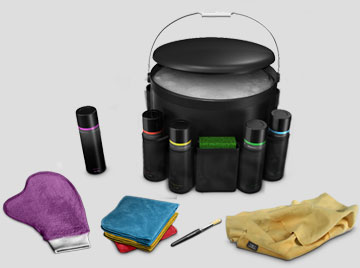 Wash Kit - Evoke™ Premium Auto Care wash kit features everything you need to wash and detail your vehicle with a convenient 3.5-gallon bucket, lid and storage apron for clean, organized storage. Available soon.